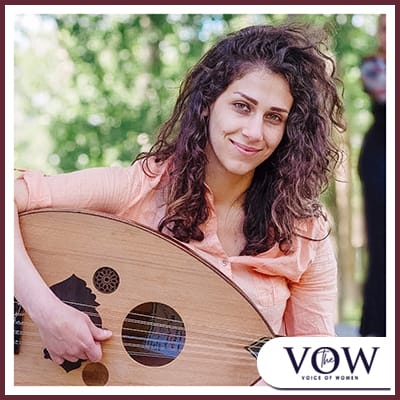 Aya Mhana is a Syrian-born singer, songwriter and oud player. Now a proud Canadian citizen, Aya moves easily between English and Arabic, writing lyrics with a poet's sensibilities.
Since emigrating to Calgary, Canada, in 2016 , Aya has performed at the Calgary Stampede and Globalfest, and with the Kensington Sinfonia. Also, got invited to Folkfest.
In 2020, for her outstanding commitment to the community and art she received the Calgary Catholic Immigration Society New Canadian Artist Award and the Portail De L,immigrant Assosiation (PIA) award. She formed a band called HYMM, a seven-piece ensemble that often graces Calgary coffee houses with its Middle Eastern fusion repertoire.
Aya's musical journey is deeply influenced by her Syrian roots. Which was obvious in her album (Homeland) the combination of two homelands that she has Canada and Syria, Hailing from Sweida, she taught herself to play the oud (a string instrument similar to the lute) during high school, and graduated from the University of Damascus with a degree in education. She volunteered with the Syrian Arab Red Crescent, working with families displaced during the Syrian war.
Inspired by her volunteer work, Aya used her music to explore the human capacity for hope during wartime, and performed her compositions in her home city. In Canada, she translates the rich culture of her homeland for audiences who often know little of Syria, but are eager to embrace her soulful melodies.
As an artist who inhabits the crossroad between nations, Aya is committed to speaking out about issues on exile and diaspora, and to celebrating the importance of home. She hopes that her music helps shape Canada's vision for a peaceful and vibrant cultural mosaic.
Be A Part Of The VOW Movement
The VOW is a community of diverse voices with stories to tell. To be part of a community of inspiration and impact, join us as a guest or as a sponsor and lend your voice to a growing movement of empowerment with The VOW.
To be a guest click here. To be a sponsor click here.