The VOW is the Voice of Women… a weekly podcast that shines a light on inspiring and interesting women in Calgary, across Canada, and around the world. Through the sharing of stories of overcoming adversity, impacting their communities, learning, growing, and succeeding, our collective of listeners, storytellers, and sponsors seek to connect, uplift, and empower every woman to raise their own voice.
"By embracing our vulnerabilities through the sharing of real-life stories, we ignite the courage for others to do the same." - The VOW
Our VOW podcast collective is a team of passionate professionals, committed to excellence in sharing the most powerful stories in an effort to create a community of support and appreciation of the value of the experiences of women from every walk of life.
Tanya Eklund is a Calgary-based, top-performing realtor specializing in luxury and inner-city properties. She has built her own successful real estate business from the ground up and triumphed over her own obstacles in seeking her success. She has cultivated a team of strong, powerful women who are committed to excellence in everything they do in The Tanya Eklund Group. Tanya believes in the ability of women to connect and lift each other up by sharing the stories of common experiences, triumph over adversity, impact community, and find success and purpose. She is a passionate advocate for female empowerment and takes an active role in coaching and mentoring women in her community to achieve their own success.
Connecting Through Storytelling
Each week, The VOW features a woman with a compelling story to share. It is through the telling of these stories that our team hopes to empower women to seek truth, authenticity, growth, and success. Throughout history, storytelling has been a tool for connection and knowledge sharing. The VOW leverages the power of modern technology to bring the stories of strong, confident, and powerful women to the people in our community who need the stories most. Together, through our shared experiences and unique life paths, we can amplify our own voices and the voices of women everywhere.
Our VOW To You
It is our mission to connect women through the sharing of real-life stories. The VOW aims to provide perspective and insight on topics that impact women and to foster compassion and understanding through stories that inspire and enlighten.
Share Your Story
Do you have a story that can resonate with other women? A story that can inspire? A story that can educate? A story that can uplift? Share your story with The VOW community so that together we can learn, connect, and empower women everywhere to raise their own voices.
The Voice of Women Podcast offers remote recordings for guests outside of Calgary!
Fill out our online form to share your story with the team at The VOW and join our community of storytellers
Some Of Our Most Noteworthy Guests
Every guest has an extraordinary and compelling story to tell. With over 43 episodes, each featuring one woman's empowering journey, The VOW has cultivated a community of women passionate about supporting and fostering success for each other. Here are just some of the most noteworthy guests featured so far:
Linda McLean: Linda is the Executive Director of The Brenda Strafford Society for the Prevention of Domestic Violence. She has extensive experience in the non-profit sector highlighting the challenges of our community's most marginalized and vulnerable populations and the value of facing those challenges with a focus on creativity, commitment, and an ethic of care.
Lynn MacDonald: ​​Lynn MacDonald has been a member of the Calgary Police Service for over 24 years. She is also Co-Founder and Head Empowerment Warrior for Empowerment Inc. While with the CPS, Lynn has worked on the Diversity Resources Team as the LGBTQ Liaison Officer, a Missing Persons Investigator in the Homicide Unit, and now as the Sergeant leading the team tasked with thoughtfully recruiting new CPS officers and building the police force needed for the city's future.
Karina Birch: Karina Birch is co-owner and CEO of natural body care purveyor Rocky Mountain Soap Co. She and her husband Cam nurtured the company from its days as a 300 square foot shop in Canmore to the now 13 retail stores and 16,000 square foot workshop in Canmore. Believing 'what goes on the body, goes in the body,' Rocky is on a mission to create small-batch products using simple, natural, and fresh ingredients.
Malika Rajani: A graduate of Parsons School Of Design Malika is inspired by the diversity of her clients in creating her outerwear designs and seeks to empower people by appreciating and respecting their individual differences. Malika gives back to her community by donating a portion of her clothing sales back to her community.
Annette Stanwick: Best-selling and award-winning author, Annette Stanwick embodies the narrative of harnessing your own personal strength to overcome trauma and tragedy to rise above and help others.
Partner With The VOW
Your sponsorship is what allows our team at The Vow to give a voice to women everywhere. The generous support of our sponsors who believe in the value of cultivating a space where the stories of women can inspire, motivate, and educate allows us to continue to grow our podcast community where our audience and our storytellers can find purpose and empowerment.
Fill out our online form to support The Voice Of Women.
A Community Of Women Committed To Better
The team at The VOW is passionate about bringing together women with stories to tell and women who can benefit from the insight and impact of those stories. Join our community of empowered women as a listener, as a Guest, or as Partner. Together we can lift up our own voices and the voices of women everywhere. Take a look at our episodes here or listen now on Apple Podcasts or on Spotify!
If you want to join us and let your voice be heard click here to become a guest. To be a sponsor click here.
How To Be A Guest
The VOW guest experience promises a safe and supportive space where you can share your story with the women who need to hear it most. If you are ready to be open, honest, vulnerable, and real with a community of people who desire the connection and growth that shared stories can provide, reach out to the team at The VOW now. Here is what you can expect.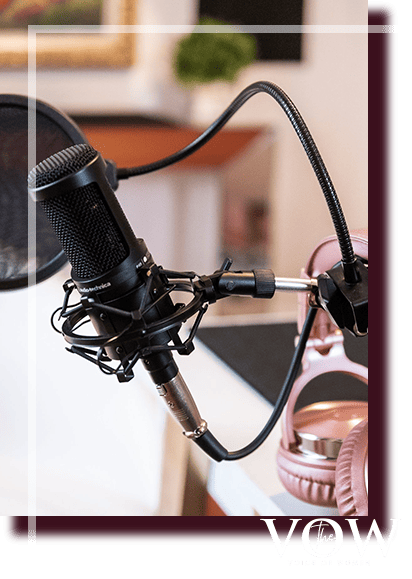 Vulnerability, compassion, and experiences shared through story-telling is fundamental to what we do. The VOW is a community of women and allies connecting through the things that make us the same and the uniqueness of us all. Amplify the Voice Of Women by sharing your story as a Guest, or with your support as a Partner. To be a guest click here. To be a sponsor click here.
Be A Part Of The VOW Movement
The VOW is a community of diverse voices with stories to tell. To be part of a community of inspiration and impact, join us as a guest or as a sponsor and lend your voice to a growing movement of empowerment with The VOW.
To be a guest click here. To be a sponsor click here.