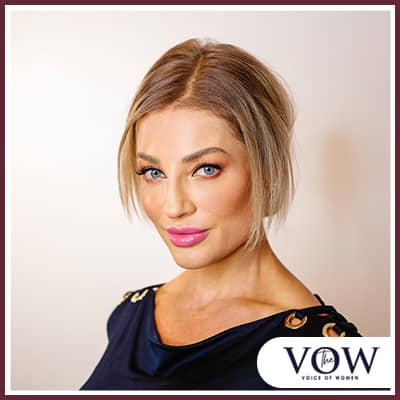 Lauren Bilon is the founder and creative visionary behind Plume, an eco-lux cosmetic brand that specializes in lash and brow growth. After the birth of her daughter, Lauren suffered from postpartum hormonal changes that caused her eyelashes to fall out. Once she realized that any of the products she could use to grow her lashes back would do so at the cost of her eye health, she set out to develop a better, safer approach. After a lengthy journey into the unknown, and with the help of her husband Brett (now CEO of Plume) and chemist Irene (formally of Rocky Mountain Soap Co.) she brought Plume into the world and has been the driving force behind better lashes and brows the world over.
Be A Part Of The VOW Movement
The VOW is a community of diverse voices with stories to tell. To be part of a community of inspiration and impact, join us as a guest or as a sponsor and lend your voice to a growing movement of empowerment with The VOW.
To be a guest click here. To be a sponsor click here.