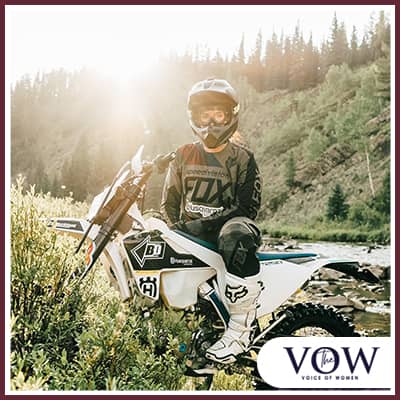 Lexi Pechout has a background in racing and riding motorcycles her entire life story. Her passion for motorcycles started at the young age of two when her parents bought her first motorcycle. She grew up in the off-road motorcycle community where every weekend was spent riding or racing with friends and family. As she progressed they traveled as a family across Canada, the United States, Europe, and Japan, to events such as XGames, Hidaka Two Day Enduro, and the ISDE to name a few. "It was an incredible opportunity to compete against some of the best riders in the world" Pechout says. A part of her knew that racing full-time forever was not a reality as much as she didn't want to admit it.
Lexi decided to redirect her efforts after college by working full-time in the industry and hosting ladies events to encourage new riders into the sport. She is forever grateful for the opportunity to work in the industry and share her passion with other enthusiasts every day. She has recently started working with a women's collective called SurfinBerms, where they create a safe place for women riders to get comfortable on two wheels. "Motorcycles put me in touch with some of the most wonderful people in the world.." Pechout says, "because of these experiences, and the people I have met I am compelled to empower others to network and create their own memories in the motorcycle community."
Be A Part Of The VOW Movement
The VOW is a community of diverse voices with stories to tell. To be part of a community of inspiration and impact, join us as a guest or as a sponsor and lend your voice to a growing movement of empowerment with The VOW.
To be a guest click here. To be a sponsor click here.