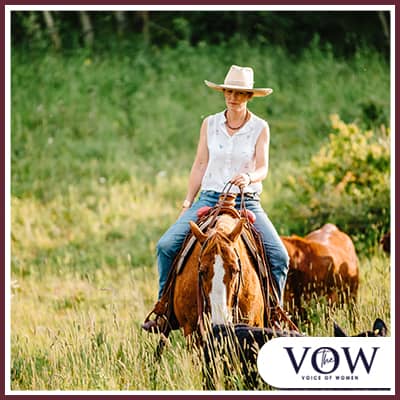 Rancher and author, Rachel Herbert was born and raised in Calgary, Alberta. The great-granddaughter of pioneer ranchers, but a long-time vegetarian, she returned to her roots and the family ranch near Nanton, Alberta. Alongside her husband, Tyler, she raises and direct-markets grassfed, grass-finished beef. They are the fourth generation, raising the fifth, to live, play, and work on the land at Trail's End Ranch in the Porcupine Hills. Rachel holds an MA in History from the University of Calgary and is the author of Ranching Women in Southern Alberta. When she's not feeding cows or chasing kids, or vice versa, she can be found reading, riding, and advocating for the ranching West.
Be A Part Of The VOW Movement
The VOW is a community of diverse voices with stories to tell. To be part of a community of inspiration and impact, join us as a guest or as a sponsor and lend your voice to a growing movement of empowerment with The VOW.
To be a guest click here. To be a sponsor click here.